The Quality of Your Springs
11/01/2015
Back To Blog
Both manually operated and automatic overhead garage doors have springs. Everyone knows that these components are important and dangerous to handle without proper technical skills, but few homeowners actually pay attention to their quality. This is certainly a wise thing to do given that sooner or later the spring will break and will have to be replaced with a new one. When this moment comes, you have to be certain that you will get a replacement component of high quality.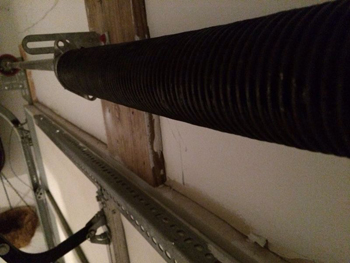 Getting the Best New Garage Door Springs
The first thing to focus on is what material the replacement component is made from. The obvious answer is steel, but there are a lot more details to consider. There are many types of steel and you have to be certain that the part is made from the right one. You should opt for a galvanized spring unless it is oil tempered. In general, oil tempered components are used only with heavy doors that have to be operated many times a day and are not a common option for the average homeowners. In general, it is best for all metal garage door parts to be made from this particular material.
Galvanized steel gets zinc coating during the production process. The coating makes the metal resistant to rust and corrosion. It is pretty reliable unless damaged. To avoid damage, you must not use harsh chemical cleaners for garage door maintenance or for cleaning the floor and walls of the garage.
Once you are certain that the spring is made from galvanized steel, you should check the thickness of the metal wire. The thicker it is the better. Greater thickness results in greater strength and durability, all other things being equal. That is why its importance must never be underestimated. The thickness of the wire which the component is made from is often measured with gauge. Keep in mind that the lower the gauge number is the thicker the wire is and vice versa.
When it comes to garage door torsion springs, in particular, there is one another major indicator of quality. This is the cycle life. It indicates how many cycles (one opening and one closing) the component can complete before it breaks. Hence, the higher the number is the better. One important thing to note, however, is that the cycle life measure is given for new doors with new hardware. If the rest of the hardware is older, this will leave the spring with more work and it will most likely break sooner.
The new springs of good quality are expected to perform between 10,000 and 15,000 cycles before breaking. In general, if you use the garage door a lot, you should opt for a component with a cycle life close to the higher end of the scale.