Garage Door Springs
Back To Our Services
Made to last for about ten thousand cycles, residential springs make the movement of your garage door possible. One of the main distinctions among them is their size. Springs must have force equivalent to the door's weight. This enables people to open their door easily either manually or with the use of electric openers. The extension and torsion garage door springs are the two basic types. The former stretch and contract and the latter create torque. With their movement, springs transfer their power to the cables so that the door can be balanced and lifted. Since both types of springs are tensed, garage door repair services related to these parts can be dangerous and should be left to our company.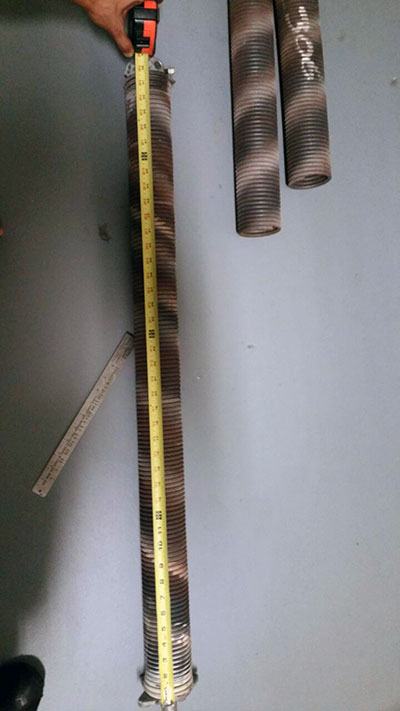 Two torsion spring systems
As long as the right size torsion spring is selected for a specific door, there is usually no need to install two torsion springs. The inside diameter and wire size of the coils must be right for the overhead door. If they are smaller, the spring will be too weak to lift the door. If they are larger, the spring might pull on the shaft and cause cables to snap. In this case, it's best to convert your one torsion spring system to a two-spring system. Two springs are also required for two car doors since they are often much wider and, thus, heavier.
Extension springs replacement
A broken garage door spring must be replaced as soon as possible or the door won't move. In fact, springs can be replaced even before they break. This will allow you to avoid emergency problems and possibly injuries or property damage from the flying spring. When it comes to extension springs, both should be replaced. They come in pairs of two and are installed at the two sides of the door. They rarely break together. Most times, one breaks first and the other follows some time later. This is one reason you should replace them both together. Another reason is their force; since they must counterbalance the door, they must have equal force. If only one spring is replaced, the other one will be weaker and tension will have to be added very often.
Safety Cables
If you have extension springs installed at home, you should consider installing safety cables. They look like ordinary cables but they are used for your protection against accidents. Broken springs have a tendency to snap due to their high tension. With safety cables passing through the extension springs, there is no chance that it will lash out and hurt anyone. Safety cables keep them in place.
Torsion and extension spring repair in Apollo Beach
Spring maintenance basically involves their adjustment and lubrication. Lubricants keep steel coils from eroding and chipping. Adjustments are necessary because springs lose tension every time they open the door. Every technician at Garage Door Repair Apollo Beach is equipped with the right tools and winding bars to provide torsion and extension springs services. You can count on us to fix any spring problem, make the necessary repairs, and offer broken spring replacement.
Call us if you need us!